Vintage Signs, for that special old world feel of a custom manufactured sign that brings back that nostalgic feeling of days past. At A1deSIGNS we have the manufacturing capabilities and experience to restore old signs to their former glory whilst being mindful of keeping the aged feel of the original piece. Using traditional techniques we bring old signage lovingly back to life.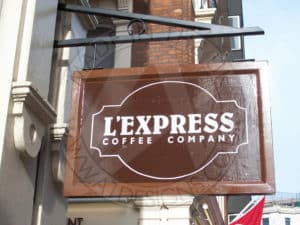 Create an Older Feel with Vintage Signage
We can also manufacture in the style of vintage signage using older typography in the design along with aging techniques that can be used on the materials the sign is manufactured from, this can included the aging, patination and rusting of various metals including brass and steel.
So whether you're looking to something with a 1950's diner feel or something as recent as the 1980's we can create vintage signs with the style and feel you are looking for. Our team of experienced Sign Makers are highly skilled when it comes to producing Vintage Signs that representing the intended era. Designing Vintage Signs comes naturally to us, as we have a wealth of experienced from working in the sign industry for such a long time, finding out what makes quality vintage signs, and discovering what catches the eye.
Take a Step Back in Time with Vintage Signs
In today's day and age, you find a lot of people look to the future and forget the past, which is something A1deSIGNS don't like to do. As much as we like to think to the future, discover new ways of doing things, and conjure up original artwork, there's a great sense of satisfaction that comes from thinking back to years gone by. Vintage Signs can be truly magnificent, and when you choose A1deSIGNS to make them for you, you are taking positive steps in the right direction.
At A1deSIGNS we have the know-how to produce vintage signs to meet your requirements, we can advise on the materials to use and how best to use them. Contact us now for a free quotation or to discuss your requirements
For more pictures visit our gallery