Maintaining and Repairing Signage: Frequently Asked Questions
Maintenance is the key to getting the most value out of your sign – extending its life cycle and making sure it continues to look as good now as the day it was installed.
Signage maintenance is also a legal obligation for shop and business owners.
For any commercial sign it is the law that you must maintain the sign you own, to ensure they remain safe and secure.
As experts in all things signage – at A1deSIGNS – we're frequently asked questions about sign maintenance and repair.
Here's a few questions and answers…
How often should my sign be maintained?
It is recommended that your signs be checked at least once a year. However, if you ever notice anything about your sign that doesn't seem right, especially if there has been recent periods of strong winds/stormy weather, it is always advised to get in touch and if necessary book in an appointment.
By having this done regularly, we can spot problems before they cause more damage.
Is sign maintenance expensive?
Costs can vary based on the number and size of signs that need checking, any works that are needed (cleaning, parts being replaced etc).
But having the peace of mind that your signs are safe and secure is worth the cost and it is a lot cheaper than if (worst case scenario) something were to happen with the sign that injured a member of the public.
What maintenance services do you offer?
We can handle any part of the maintenance when it comes to your sign. From a simple cleaning, to replacing of LEDs/fluorescents/neon, to remaking and replacing other areas of the sign. We can replace or add extra fixings as needed to ensure the sign is secure and can also help with weatherproofing solutions if you are finding that water is getting into any part of the sign.
If you have any further questions around signage maintenance and repair or would like to speak to someone about an idea you have for a project – please get in touch and speak to a member of the A1deSIGNS team.
Our online neon shop is open
A1deSIGNS' online neon store is now open!
We're showcasing a range of new, exciting neon signage products including LED flex neon infinity mirrors and LED flex neon signs – at great value. Have a look and let us know what you think…
In addition to our standard signage offerings – if you don't see what you need, or require something custom please get in contact via our Contact Us page and we will be happy to help you with your project.
LED Flex infinity mirrors
LED Neon Flex signs are a great alternative to neon signs when needed. If you need a product that is a bit more durable, or if real neon is out of your budget, or even if a venue will not allow real neon, LED Flex signs can provide a cost effective solution while still maintaining a look that resembles real neon.
LED flex neon signs
LED Neon Flex signs are a great alternative to neon signs when needed. If you need a product that is a bit more durable, or if real neon is out of your budget, or even if a venue will not allow real neon, LED Flex signs can provide a cost effective solution while still maintaining a look that resembles real neon.
Keep a regular eye out on our shop page – as our ranges are continuing to expand!
What is Wayfinding Signage?
When you are walking outside and see a signpost with various locations and distances pointing in their respective directions, that is wayfinding signage. When you are at a shopping centre and look at the map that tells you where you are, that is wayfinding signage. Even something as simple as a directory board on a wall of a reception area is wayfinding signage.
Put simply, wayfinding signage covers anything that helps you know where you are, or where to go. Because of this, it can encompass many items that you would look at almost every day without even considering it. Something as simple as a door number for example, or a street name can be included within the realm of wayfinding signage.
What types of Wayfinding signage are there?
Though you can technically make wayfinding signage in anyway, there are several standards that the general public have come to recognise and since the purpose of the signage is to aid the general public, it is important to ensure they can locate and understand whatever system you put in place.
Below are a few examples:
Directional signage
This type of signage is great either outdoors to point people I towards a location. You often find these on footpaths indicating distances and directions of local towns or popular locations. These are often wooden or metal poles with arrow-tipped panels extending from them in the direction of their destination.
Directory signage
Often found in multi-level buildings, this will as a standard be some form of board, split into different sections or floors, telling you which shop / business is on which floor. These can be made in several different ways, from something as simple as a clear acrylic board with vinyl detailing, to an etched stainless steel panel with many different variations in between. This type of signage also includes boards outside retail / industrial parks, letting you know a list of all the businesses or shops.
Location Signage
You will find this type of signage in theme parks, zoos, shopping centres and even some town centres. In its basic form it is a map of the surrounding area, usually numbered, with an accompanying list next to it telling you what each number represents. The key feature about this type of sign however, is that it will contain a small dot, or arrow, with the phrase "You are here".
This then allows everyone, whether new to the area or not to be able to quickly identify where they are in relation to everything else and identify where they need to go.
This type of sign can be as simple as two posts, with a board in between and the graphic on either side. Sometimes there will be acrylic pockets fixed to the sides that will then have leaflets sat in. Higher end versions might have digital screens that allow interactivity and a more in depth user
---
If you have any further questions related to this topic or any other around shop and retail signage, please take the time to get in touch and we can talk to you about any type of project you have in mind.
Superdry's Supersigns
July 13th 2017. We received an order from one of our clients for three new Superdry neon signs for a new store opening up in London's Covent Garden. They were to display the Classic Superdry Trademark Japan Logo, with additional text above reading London. Two of the signs were to be 3.6 meters wide and 2.13 meters high while the third needed to be 2.75 meters wide and 1.67 meters high.
The smaller neon sign was to be mounted onto a tray panel which would then be put up onto a wall, standard stuff for a company who assemble neon signs onto tray panels all the time. The two large signs however were going to be mounted onto clear acrylic panels and then onto portable mesh panels. There was a twist however, these panels had to stand off of the mesh panels by at least 25mm. While this was a little trickier than the tray panel version, we have never been a company to shy away from a challenge.
As it turned out there was a bigger challenge than suspending 10mm thick acrylic panels holding approximately 55 meters of glass tubes on each sign, all three had to be made and installed by the end of the Thursday 26th July ready for the shop to open the end of that week. With a full workload, a standard medium sized neon sign will take about 5-10 working days to be made once all artwork has been agreed, we had 9 days to make and install almost 150 meters of glass.
It was no easy feat, with each tube having to be hand bent over a hot flame and the design calling for double line neon, that is, neon that follows the outline of a shape rather than the central line of it. Once bent, every single piece of glass then has to have a pair of electrodes attached that then allow electricity to run through them before then pumping them with the neon gas that would then light up.
It took four people working in the glass shop to bend, electrode and pump approximately 100 individual pieces of glass, over two full weekends and 5 additional working days, just to have the neon signs ready to assemble onto their respective panels before they were transported to Covent Garden. It then took another 4 people to prepare each panel, mark out the drawings and then assemble the neon ready for transport.
The installation of the signs took place over the 24th,25th and 26th July, with three people working approximately 13 hours a day to ensure we met the deadline, but by Lunchtime on Wednesday 26th, all three neon signs were mounted and turned on.
This project took a combined total of approximately 500 hours from start to finish, but we pride ourselves on meeting a deadline once we commit to it and with all of our signs being manufactured in house, we can often meet tight deadlines that would otherwise result in a client not having a neon sign when they needed it.
And the result of our efforts? Well we think they turned out pretty well. But don't take our word for it, take a look at some of the photos below and decide for yourselves.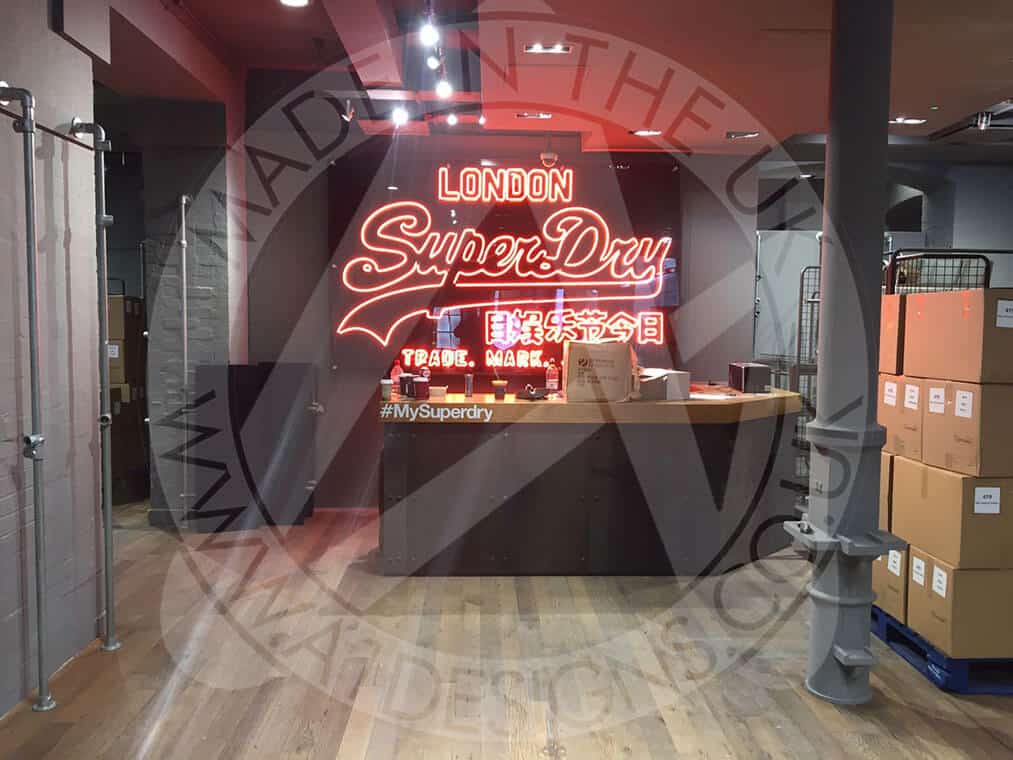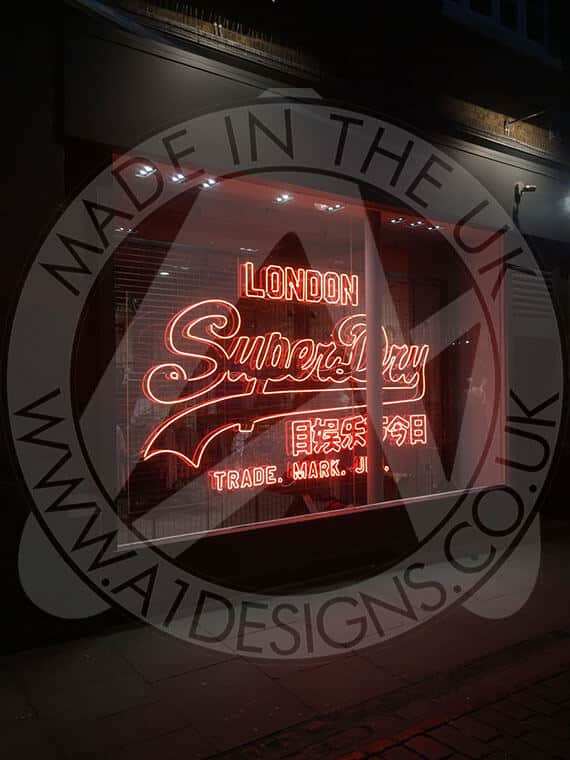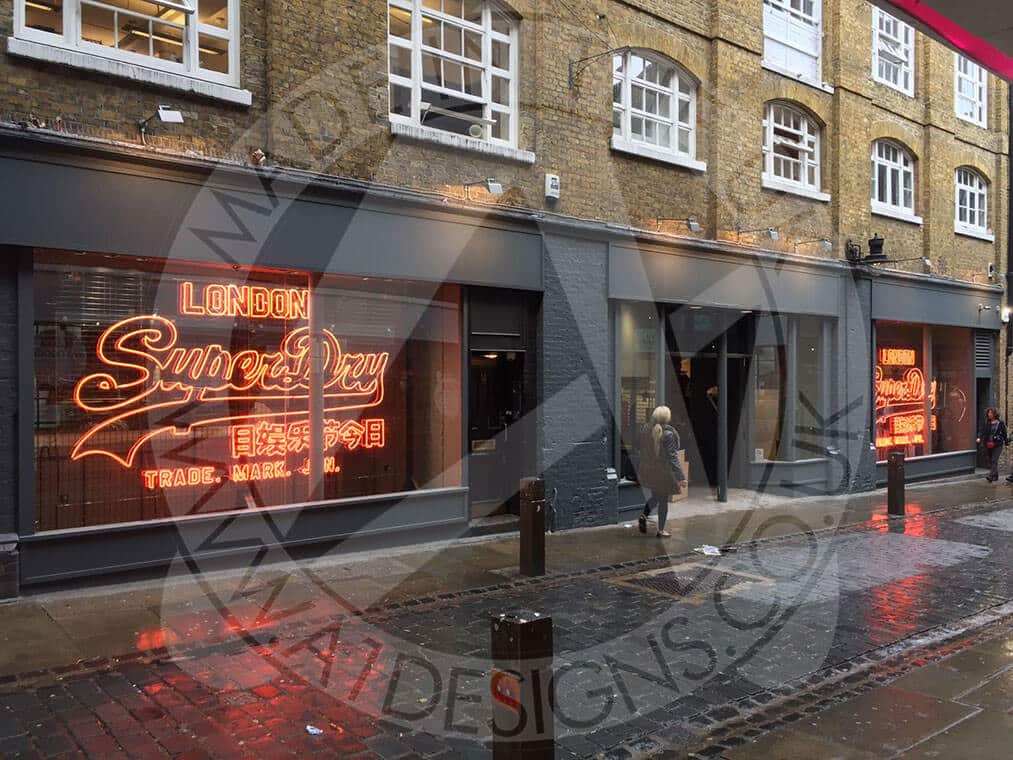 Big or small, A1deSIGNS can help you with your signage needs. Whether it is a complex project or a tight deadline, if it is possible, we will do everything we can to help you get your neon sign. So drop us an email, or call us today to get the ball rolling on your next project!
What's the best type of vinyl for your graphic vinyl project?
There are many reasons why we love vinyl, including being colourful, affordable and efficient. At A1deSIGNS we have lots of styles and types to choose from, our bespoke vinyl signage will really make your business stand out.
When considering the style and design you'd like, it's important to consider that there's a variety of types when it comes to vinyl signage, especially when considering the use, if it's for interiors, exteriors, or on a number of different surfaces. Another factor to include in your choice is the duration you need the vinyl for. For standard vinyl types there is usually a 3-5 year range and a 7 year + range. For special vinyls or exterior uses, the lifespan can be reduced however when used internally in a environment shielded from harsh temperature changes vinyl can last longer.
The vinyl that's available includes…
Transparent vinyl
The clue is in the name, this type of vinyl is see-through, it comes in a number of colours allowing the chance to be really creative with your design. This type of vinyl tends to be thicker than other vinyls and is popular for interiors including indoor glass projects. This type provides great effects should different colours be overlapped as well as the ability to print a number of colours onto a wider colour palette.
Translucent vinyl
These vinyls look quite solid but they are designed to let light shine through, making them perfect for use on light boxes. Signs made with these vinyls can come in a wide range of colours and have a satin finish.
Matte vinyl
Matte vinyl is similar to matte paint, it has a flat and non-reflective surface. Designers and architects tend to prefer this look to the shine of gloss vinyl. This vinyl is ideal for use on panels both inside and out and can be applied to either side of a window.
Gloss vinyl
Gloss vinyl is similar to gloss paint and has a shiny surface, it comes in a number of colours. Like the matte version gloss vinyl stands up to the weather much better than other vinyls, so it's a good choice for exterior areas.
Metallic vinyl
Metallic vinyl come with both gloss and matt finishes and the colours tend to be gold, silver, bronze and copper. Pearlescent, galvanizes and graphite are also available in metallic vinyl. These types of vinyls are usually used for decorative effects and tend to be placed on panels and glass doors. Some can be created with added protection so they can withstand the weather outdoors. The life span on these tends to be shorter than the standard ranges due to the way it is manufactured.
Stencil vinyl
Stencil vinyl comes as a standard in one or two colours. It is not used for decoration, but as a tool to help create the decoration. Stencil vinyl is primarily used in one of two ways ; either to block out the inside of a shape, so that the surrounding area can be treated in a different colour or as the reverse, blocking out the surrounding area so that the inside can be treated.
Reflective vinyl
Reflective vinyls are mainly used for road or road safety signs as well as emergency vehicles like ambulances and police cars. During the day they tend to look like white or black strips, but by night time they will reflect light shone on them and can attract attention or provide a warning. They also come in yellow and red variants.
Blackboard vinyl
This vinyl is textured black and is designed to be written on with chalk or chalkboard pens, with the ability to be wiped clean with a damp cloth so they can be wrote on again. They're thick and easy to apply making them a popular option for schools for their menu boards, children's playrooms and office noticeboards, as well as restaurant menu boards.
Frosted vinyl
Frosted vinyls are great when it comes to glass, they let light through but you can't clearly see through them so they'll also protect your privacy and stop people from walking into glass panels and doors. They provide an etched, sandblasted or textured glass look.
There's a number of frosted effects to choose from for your signage, as well as patterned finishes.
Photo luminescent vinyl
This type of signage is designed to gather light during the day so it can release the light when it's the evening or when the light has been switched off. This type of signage is popular for safety signage in offices.
Printing Vinyl
While the majority of the above are designed to cut and applied either as blocks or designs and are great for creating designs that use individual blocks of colour, there are times when you need a gradient of colours, or a colour not available within one of the above ranges. This is where printing vinyl comes into play. As a standard product, it is simply a thick white vinyl that can be printed onto, allowing for intricate designs, making it ideal for brand logos or matching to precise colours. There is also a premium version available called Contravision, that when applied, allows for one side to be seen through with the other side displaying only the design, making it great for when privacy is key.
Whatever your vinyl signage needs, if you have any questions regarding the type or the suitability of the ranges we offer, please feel free to contact us.
Company Signs – Form and Function
For commercial businesses and large organisations, their company sign choices can say a great deal about them, helping to get their specific branding across to the public along with their company ethos. Company signs can include a wide range of various sign types including large totem signs outside big retail outlets or office blocks, to high level signage that can be seen from great distances.
The design form of company signs can range greatly from a sleek modern feel to a more vintage or retro style, or just a simple interpretation of existing branding guidelines. The design styles can be quite limitless when looking at larger scale company sign options and refined finishes for smaller company signs.
Each company sign project has its different technical challenges; we can offer advice and expertise from the outset, in order to ensure that your commercial sign project runs smoothly. Providing you with not only advice on construction and illumination options, but also positioning.  Whether it is internal or external commercial signage, A1deSIGNS can help you achieve an end product that you can be proud of.