The cost of shop signs
Shop Signs are an absolute must if you are located on a busy high street, or within a large shopping centre. They let people know who you are and a well made sign will create a positive influence inside potential customer's mind even before they enter your premises.
'How much do shop signs cost?' and 'Are shop signs expensive?' are questions we're often asked as a specialist in all types of shop signage.
With this in mind, we're going to go into some depth to answer these two questions as best we can…
How much do shop signs cost?
This question is the most asked question we hear. Not just limited to shop signs, many people enquire with just this question, without realising how difficult it can be to answer. Many different elements affect the overall cost; the size of the sign, what material(s) is/are being used on it, whether there is any illumination, whether a sub-frame is needed. Built up letters cost more than flat cut letters, which in turns costs more than vinyl graphics. Built up letters with lighting inside costs more than without. It can sometimes be cheaper to illuminate your sign with an overhead trough light than with lighting inside the sign itself, but sometimes it is not.
The more information you can provide at the enquiry stage, the easier it is to get a quick and accurate price for your shop sign.
Are Shop Signs Expensive?
The answer to this question can be both yes and no. Depending on the materials you choose for your shop sign, it can become quite expensive. More premium materials and finishes (brass and polished gold stainless steel for example) will naturally increase the cost. Adding lighting also increases the cost, the level of this depending on the type of lighting and coverage.
But the true answer to this question depends on your perception and budget. Your shop sign is hand made by us, sometimes taking many hours to manufacture the individual components and then assemble everything into the finished product. Knowing that certain materials cost more than others and certain styles take longer to make than others can help you have a realistic expectation based on what you are asking for. A single shop sign could vary from £6/700 + vat to over £3000 + vat depending on the materials and styles used.
If you have a budget that is higher than this cost, then the sign would not be seen as expensive and likewise, if your budget is lower, then it would be seen as expensive.
One thing to also think about is that while a shop sign can work out expensive, it is expected to last between 4 and 7 years at least and will serve as one of the greatest forms of advertising for your business. A good quality impressive shop sign will stand out from other shops in the area. When you factor in the lifespan of the sign and the potential it brings for new business, it is well worth investing in a good quality sign.
* Please note: If you are interested in having a shop sign made up, please look at our guide to Specifying your Fascia, along with the other specification documents that will help you know exactly what to request based on what you want. Alternatively, please feel free to call or email us to begin the process of creating a shop sign
---
If you have any further questions related to this topic or any other around shop and retail signage, please take the time to get in touch and we can talk to you about any type of project you have in mind.
Shop Signage FAQs: What are shop signs made of?
As we are a manufacturer of all types of signage, customers often ask very general questions about shop signs or fascias, as they are also known, at the early stages of enquiry. These questions are almost impossible to answer as a whole, due to the multi-faceted nature of signs. With that in mind, we thought it best to go into more depth with some of them to try to provide a clearer understanding.
If you are interested in having a shop sign made up, please look at our guide to Specifying your Fascia, along with the other specification documents that will help you know exactly what to request based on what you want. Alternatively, please feel free to call or email us to begin the process of creating a shop sign.
What are shop signs made of?
One of the most common questions customers ask us, either because they are not sure what can be used, or because they have seen too many different versions to really know what they are looking at. There are three main elements to a shop sign: the backing panel, the main focus and supporting information.
Shop signs are usually placed outside (unless your shop is inside a larger shopping facility), so unless your sign is going to be a light box, or a flat panel inside a panatrim frame, your backing is not likely to be made out of acrylic. With that in mind, the more popular materials for shop/ fascia signs are: wood, aluminium composite, aluminium and steel (either mild steel or brushed / polished finished stainless steel).
The main focus of a sign is the part you want to stand out to everyone, to draw them in. The vast majority of the time, it will be the name of your shop or company, sometimes a company logo. Because of this, you want to make sure that it stands out. There are many different mediums available for tis, from vinyl graphics, to metal built up letters to neon lighting. Illumination is always a great way to draw attention to a sign.
Supporting information encompasses all the other details you might put onto your sign, including phone number, website, shop number etc. These can be important details to have displayed, but you would not want them to be the part of your sign people notice first. Vinyl is always a popular choice for this information as it comes in many colours and allows large areas to be covered for a relatively low cost. You can of course use any of the materials mentioned above and more, but the key to remember is that you do not want to overshadow the main focus.
---
If you have any further questions related to this topic or any other around shop and retail signage, please take the time to get in touch and we can talk to you about any type of project you have in mind.
Why Light Bulb Signs are Good for Business
As a business owner, you will no doubt be looking for new ways to enhance the interior and exterior areas of your business to maximise opportunities for growth. When it comes to marketing the world is your oyster, so it's extremely important to learn about the numerous ways you can do this.
One way you can do this is with effective signage. Shop Front Signs , directional signage, interior displays and other forms of signage can help you to promote your business in a positive way. Light bulb signs in particular can help you to stand out from the crowd and gain new business.
4 Reasons why Light Bulb Signs are Business Friendly
If you are thinking about investing in a new light bulb sign for your business, you might be wondering what the benefits are. Below, we look at 4 reasons why light bulb signage can have a positive influence in your workplace.
1. They're Attractive
Light bulb signs provide an attractive way of catching the eyes of potential customers. Position them neatly in a shop window or as part of a display inside and you will find yourself dealing with customers you have never seen before.
When considering any signage for your business, it's important to think about how the sign will function and look once installed. Many people will think about the appearance of the sign without truly considering the effects of the signage or how it is positioned. The bright bulbs will not only add aesthetic appeal to your place of work, but will also help to ensure your business is seen by the right people.
2. They're Energy Efficient
A lot of people worry about the cost of running a sign that comes with loads of bulbs, which is understandable. Not to worry though; providing the right bulbs are used, light bulb signs can be extremely energy efficient. You won't have to spend a fortune to maintain the sign and you can benefit from having signage that catches the eyes of everyone who walks past.
3. They're Versatile
Like other forms of signage, light bulb signs are extremely versatile. A range of designs can be achieved with different materials and the colours/sizes can vary depending on your requirements. Long story short, light bulbs can be incorporated into a range of signage to help you deliver a glowing message.
4. They're Excellent for Generating Business
High quality signage increases your chances of gaining new business. Having an attractive shop front or workplace interior can really help your cause when it comes to getting attention from potential customers.
Signs made from light bulbs are not only attractive, versatile and energy efficient, they can help to make sure your business is seen. Providing your signage is well positioned, there's no way anyone passing by is going to miss what you have to offer!
If you are interested in light bulb signs to change the way your business presents itself, feel free to get in touch and we can discuss your project with you.
Shop Signs / Retail Signs – The Options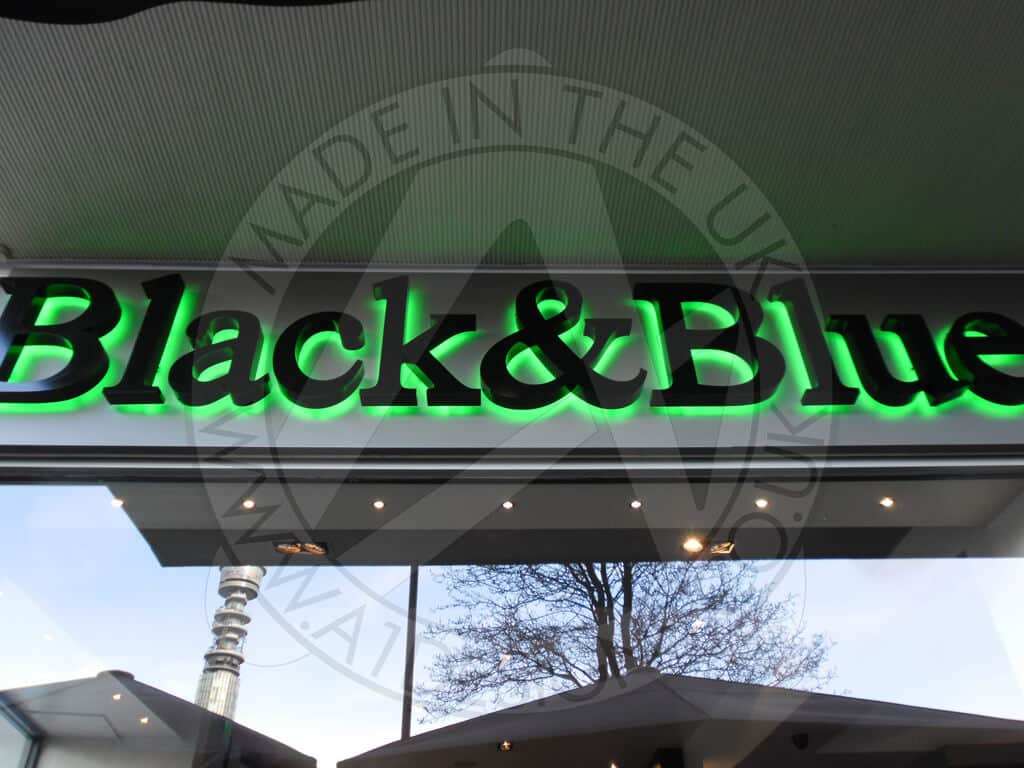 When looking at signage, Shop signs and retail signs are the most effective form of advertising available to a business, often overlooked and poorly maintained, your shop sign or retail sign is the important first impression that attracts the most important customers of all, the ones walking past your door.
As a business you can easily spend a great deal of money on advertising in places such as yell for example, with this type of advert you are placed next to every bit of competition in your area and it can easily cost up to £3000 on a yearly basis.
The average retail sign or shop sign depending on the quality of the materials used can last 10 years or more, if you spent the same £3000 on your retail sign or shop sign, you would have a high quality sign, that would have massive impact and all at a yearly cost of ownership of only £300 per year. Of course this is the higher end of the spectrum of signage options available, and more costs effective options are available.
When looking at retail signs and shop signs what are the options available?
At A1deSIGNS we have the experience to provide you with the retail sign or shop sign options that fit your brand or style. If you already have a logo or some sort of design, we can advise you as to the type of signage that best suits. We can provide options for your fascia sign, double sided projection sign, windows graphics, internal signage and branding along with a variety of point of sale options. Giving you the complete solution for your retail sign or shop sign needs.
Medium, low cost shop sign and retail sign options can include simple forms of signage such as acrylic letters fixed directly to the wall, flat panels with applied vinyl text or graphics.
Mid-range shop sign and retail sign options can include metal letters mounted to a panel or wall, built up metal or acrylic letters without internal illumination and the use of an overhead trough light.
High-end shop signs and retail sign options can include built up letters in metals such as brass with internal illumination via neon or LED's, it all depends on the type of sign making supplies you use.. Another option includes push through acrylic letters that can give a unique look.