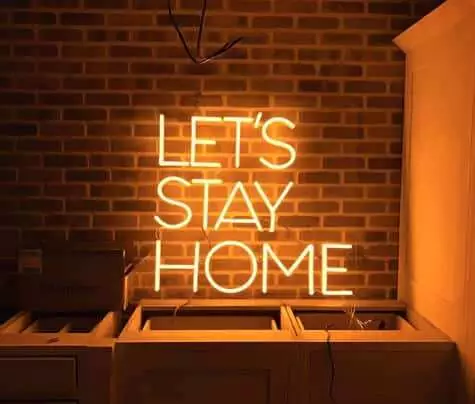 As specialists in neon manufacture we get many enquiries in regards to neon signs for people's homes. Neon can be a great feature in a home, providing a warm glow that can create a perfect atmosphere in a living room, or look great in a kitchen, hall way or bedroom.
There are a few things to note in regards to neon signs in general:
It is a handmade product, it can take many hours of someone stood over a hot flame and so the cost final product does reflect the time and skill that goes into its creation
It is an electrical product made of glass, not a toy and so while a neon sign might look great in a child's bedroom, care should be taken so that young children cannot play with the sign or potentially damage it.
With that being said, Neon signs can be an incredible feature for your home. We have made and installed many signs for use in the home, below are a few examples.
Neon Signs for a Kitchen
Customers ask for a variety of different signs for their kitchen; some want a particular phrase that they like, others want something a single word to do with food or eating. One of the stranger but more fun projects we have worked on for a kitchen though was an amalgamation of the London skyline.
Using a variety of colours, we made a sign that had the London Eye, the gherkin, Big Ben and some other well-known landmarks. We mounted directly to the wall, and particular care had to be taken as it was positioned around an existing TV.
We spend a lot of time in our kitchens, with many also serving as dining rooms and a good-looking neon sign is a great addition to that environment.
Neon Signs for the bedroom
Bedrooms are ideal locations for neon signs. The warm glow of a neon, added with the capability for dimming, allows for great mood lighting when needed and a unique piece of decoration during the day.
With Bedrooms used for more than just sleeping in this modern age, a neon sign can really make the room feel like your space. Perhaps you stream inside your bedroom, why not have a neon sign of your handle? If your bedroom is used as your primary living area, for example if you live in a rented room in a larger house, then a neon sign can help make that change from 'bedroom' space to 'entertaining space'.
Ways to mount a Neon Sign
As a standard, a neon sign for inside your house is made to be put up on the wall and left alone. Whether this is a tray panel, or clear acrylic case with keyholes that sits flush to the wall, a flat acrylic panel that stands off the wall with peg fixings, or even neon mounted directly onto the wall using tube supports.
However, a neon sign to hang on a wall is not the only option. We can also make your neon sign freestanding, so you can move it from room to room. If the situation calls for it, we can even make the sign so that it is suspended from a ceiling.
All in all, a neon sign for the home is a great piece to invest in. It can help bring new life to a room, transforming it with a vibrant but warm glow that helps really make a house a home.
---
We hope you found this post helpful? Check out more of our neon articles here. And please drop us a line if you'd like to chat about any of the details we've covered or to find out more about how our variety of neon signs can help your business.