If you are looking for Neon Signs London then you have certainly come to the right place.
Neon Signs are a high quality, high impact form of signage that will make any business stand out to passing customers. As we all know it is very rare we get a second chance to grab a customer's attention and make that all important first impression.
Neon has no equal, although many have tried, they lack the natural, attractive light or are too harsh to look at and lack the bespoke hand-made feel of a neon sign. So whether used as part of a fascia sign, hanging in a window of a high street shop, or to give a retro feel to the interior of a bar, you can be sure that a neon sign will give the best impact you could possibly want, as its natural light and vintage/retro charm attracts customers to your door.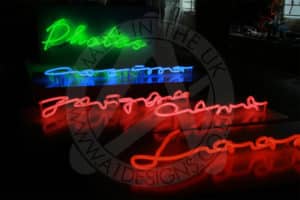 Neon Sign Makers London
As the UK's premier neon sign makers, we are able to create a bespoke neon sign design to meet your needs, from either a logo, handwriting or to follow the outlines of a picture, our design team will be happy to work with you to create your own exclusive look; with many years experience we have the knowledge to create the perfect neon sign for you.
From a simple open neon sign, through to complex multi-coloured logos that flash, creating movement in your signage, we have the knowledge and experience to help you achieve your advertising needs. We endeavor to make it our goal to give you the most effective sign for your business to help you stand out from the busy London crowds.
We carry a large stock of colours and can source other rarely used colours within a short time-frame. These can be seen on our colour selector page.
Professional Sign Making Services
With combined neon sign making and installation experience of over 150 years, the A1deSIGNS team possess a wealth of knowledge that will help create the effect you are looking to achieve. This gives our customers peace of mind that their Neon Signs have been installed to the high standard that years of experience brings.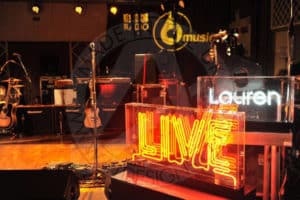 Through the use of different controllers we can provide options that allow your London neon signs to be dimmed to varying levels depending on the equipment used. We can also provide controllers that allow your neon signs to spell out words or even create movement. This is done by illuminating various parts of the neon signs in sequence to give the illusion of movement.
Neon signs can be manufactured for use either inside or outside and can be mounted onto variety of substrates including acrylic, aluminium composite, sprayed aluminium panels, aged wood, hand painted wood, glass or even mounted directly onto a brick wall. As a professional neon sign maker we have installed neon signs to almost every possible substrate.
At A1deSIGNS we have the know-how and experience to provide you with the neon sign installation you envisaged. Contact us now for a free quotation or to discuss your need for Neon Signs in London.
For more pictures visit our gallery
Are you restricted to the font you can use?
We can convert a great deal, if not most fonts, into neon.
What is single, double and triple line neon?
Single Line neon is when the tube follows the centre line of the letter, double line neon is where the outside edge of the letter shape is followed, triple line is a combination of the both. We can do more lines as long as space allows.

Can you make my logo into a neon sign?
We can convert almost all logos into a neon sign. The more intricate the logo the larger the final sign will need to be.
What is the largest you can make a neon sign?
We are capable of making neon signs of any height, this would only be restricted by access equipment capabilities.
What is the smallest letter height?
The minimum height of the lettering we can manufacture is dependent on the diameter of glass we will be using for the sign. If we manufacture your sign in 8mm glass, which has limited colours, we can do as small as a 40-50mm letter height, in 10mm glass you would be looking at a height around 80-90mm, depending on the font style.
Is there a limit to the neon colours available?
There is but we have a wide range of colours that can be viewed on our Colour Selector Page
Can my sign be used indoors and outdoors?
We can manufacture your sign for either use, however if it is designed for indoor use it should not be used outside.
What can I have my neon sign mounted on?
When it comes to the mounting of your sign, you have several options available to you, this includes mounting directly to a wall of your choosing, wood, metal, Aluminium composite or acrylic. If you have another type of material in mind, run it past us and we will let you know if we think it can be done.
What is the difference between an external and internal neon sign?
An internal neon sign uses different control gear to an external neon sign; the internal neon sign control gear is smaller and needs to be located close to the sign; the external control gear can be used inside as well as outside it is larger in size, but can be located remote to the neon sign or neon art installation.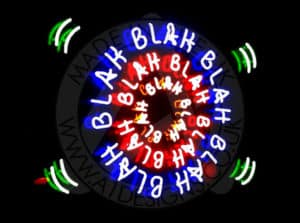 Does my neon sign or neon art require an isolator/fireman's switch?
If your neon sign is portable, can be unplugged and carried out the building no fireman's switch is required, also if the sign is fixed and pulls 100w or less of power and is fed from a readily available socket one is not required.
Why does my neon sign or neon art require an isolator/fireman's switch?
An isolator switch is required so that if a fire occurs in the building the sign can be switched off, this stops the high voltage running down the water that is sprayed on any fire that occurs in the building. Neon is less likely than any other electrical device in a building to catch fire as they have various protections built in order to switch the sign off if a fault occurs.
Do I need to provide artwork?
If artwork can be provided, please provide it as an EPS files, we however don't require artwork as we can translate your logo or handwriting into a neon sign or neon art design for you. Artwork is always generated before we begin manufacture.
I have a large artwork file, how can we send this to you?
We can accept files up to 5mb in size via email if you need to send larger files please do so using a service such as we send it and include our enquiry@a1design.co.uk email address to send it to.
When it comes to bespoke neon signs and lighting, A1deSIGNS is one of the leading choices throughout London and the UK. If you are interested in having any of the following custom designed, please take the time to contact us to speak about the ideas you have:
Custom Neon Signs
Neon Bar Signs
Personalised Neon Sign Designs
Bespoke Neon Signs
Colourful Neon Lighting
Neon Light Signs
Our neon sign makers can talk to you about any neon sign ideas you have. To see more ideas, visit our neon sign gallery page below: