Why choose neon art?
Neon art is becoming increasingly popular. It is used to lighten up an environment or create a statement – so great to liven up an office space or decorate a wall in your home. 
It can be a simple word or phrase, or it can be an image. You can have your neon put straight on the wall, or it can be combined with other materials such as wood, acrylic or metal backings to help it stand out. 
A neon art piece is something that will pop, drawing the eye the moment you enter a room. At A1 DeSIGNS we love creating neon art and here are some reasons why… 
One of a kind
With the combination of your imagination, the different colours and backing materials available and the different styles, your art can be truly unique. 
Impact
A neon art piece is something that will pop, drawing the eye the moment you enter a room. 
Portable
If you want to be able to travel with your neon, it can be made as a complete unit, so you can simply take it somewhere and plug it in. 
* You do not have to be an artist to create a piece of neon art. If you have a phrase that means a lot to you, or a logo you wish to convert, we can help. Even something as basic as a name can be turned into neon. 
---
Check out more of our signage articles here. And please drop us a line if you'd like to chat about any of the details we've covered about cold cathode or to find out more about how our variety of neon signs can help your business. 
Buy Neon Signs Online – 100's Of Choices
Our online neon store is rapidly growing with over 100 LED flex neon products to check out.
Take a look at our popular offerings of LED flex neon signs and LED flex neon infinity mirrors and let us know what you think.
In addition to our standard signage offerings – if you don't see what you need, or require something custom please get in contact and we will be happy to help you with your project.
Here's a quick overview of some of our exciting new arrivals.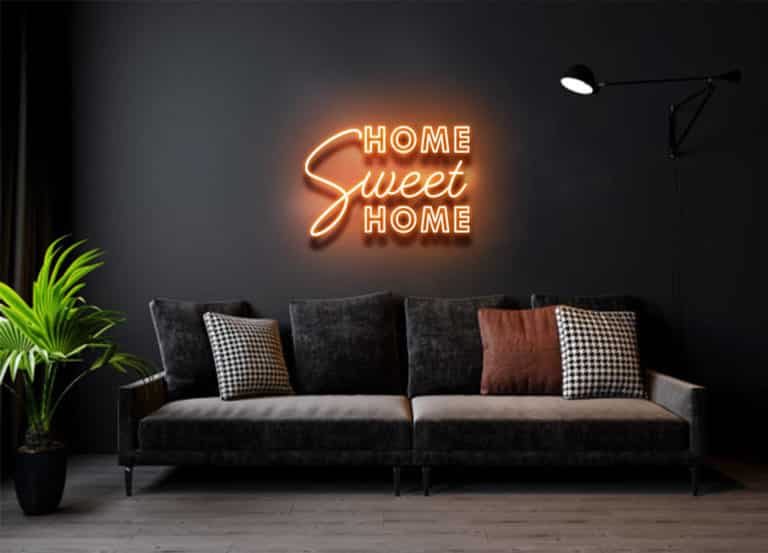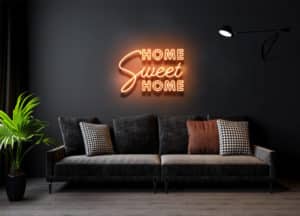 You cant beat it, so why not have it in lights to set the mood. Order your LED Flex Neon Sign today!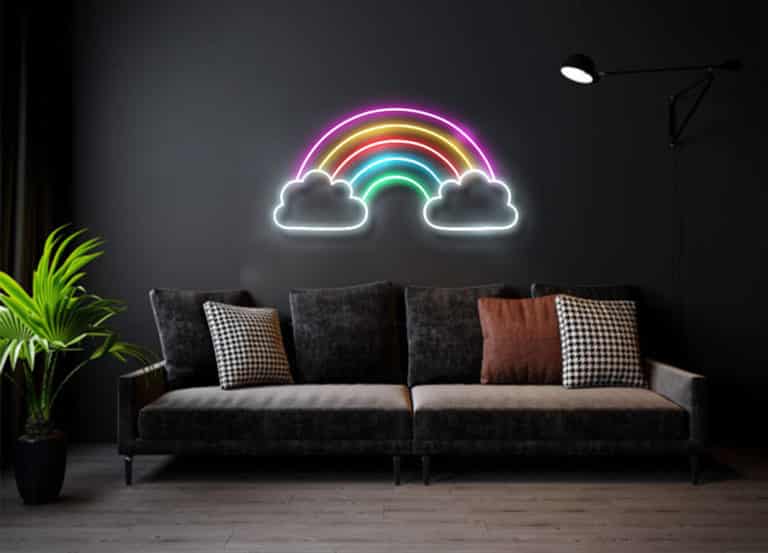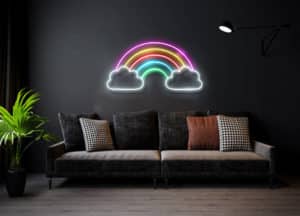 They say every cloud has a silver lining, well ours has a full on rainbow of colour. Get your LED Flex Neon Sign today!
Bring your home bar to life with this gorgeous "Cocktails & Dreams" LED Flex Neon infinity mirror.
Life is too short for worry or stress. Help bring calm into your life with this Peace gesture LED Flex Neon infinity mirror.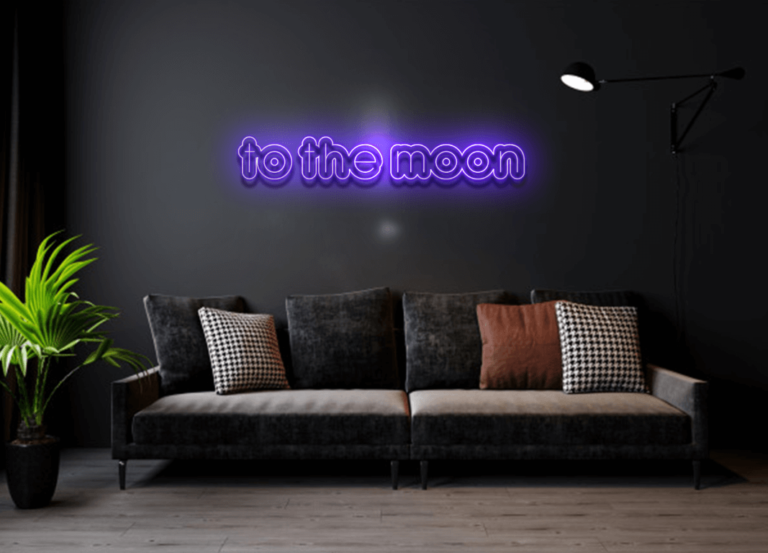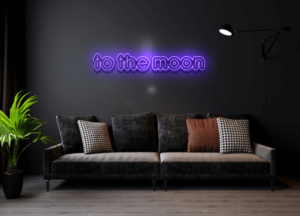 This spectacular "to the moon" LED Flex Neon Sign is truly out of this world!
And please do keep a regular eye out on our shop page – as our ranges are continuing to expand!
What are the different types of Neon Signs?
Technically there is only one type of neon, it take around 5 years of practice to get good enough to bend glass to a high enough quality to make a real neon sign. We can manufacture this in-house for you.
If you are interested in the difference between the "different" types, we hope to answer What are the different types of Neon Signs question here for you.
This page is still a work in progress. We will be adding videos in due course, but for the time being we have explained below.
Neon Signs (Only ever made from glass)
How is a neon sign made?
Neon signs are made from straight lengths of glass, these come pre-powdered with a phosphor coating. The glass is heated by hand in a flame until it becomes soft, a bit like spaghetti. Once the glass is soft, it is removed from the flame and bent to shape over a paper pattern by hand, air is also blown into the tube at the same time to keep the tubes shape and diameter, this is either done by a mouth piece or by blowing directly into the end of the tube depending on the style of bending. After each bend is completed out of the flame, the glass is returned to the flame to be annealed, this is done to reduce any stress in the glass.  The bend then need to cool before the next band can be done, each and every bend is made this way.
After the Bending process has been completed, parts are assembled into a section. A section can be a few letters when small or part of a large letter, shape or object. Once part are joined, electrodes are then attached to each end of the tube, the tube is then ready to be pumped.
After the Electrodes have been attached the section moves to the final stages, this starts with the section being bombarded. The section is attached to a machine via some small stemming glass, once a seal is created the section is then put under vacuum, voltage is then applied to the tube once a certain pressure is reached, this applied voltage lights up the tube and starts warming the tube and electrodes up. As the tube warms harmless impurities are given off and then removed with the vacuum, (if they were not removed the tube would either not light or would fail quickly). The pressure of the tube is kept low until the electrodes have been activated and the tube has reached the correct processing temperature. Once the tube has been cleaned and the electrodes activated the vacuum is then increased, the tube is allowed to cool before the required gas (Neon or Argon) is added. Once complete the tube is removed from the bombarder and the placed into the aging bay.
The aging bay part of the process allows for the tube to fully come to life and checks for any problems with the tube. Once the tube is ready, all of the drop-backs (parts that are not needed to be seen) are painted out to give the lettering or design definition.
Where can a Neon Sign be used?
Neon signs can be used pretty much anywhere, indoors or outdoors, they are allowed to be used at touching height and don't burn you when touched. There are times, however, when other options would make more sense, or placing a cover over the neon would be a good choice and there are sometimes electrical regulations that need to be considered. If you wish to discuss how you are looking to use your sign, get in contact and we will be happy to discuss this through with you. Please don't take the word of an LED company that doesn't make neon, as they generally don't understand or know about real neon.
What are the options for mounting a Neon Sign?
The mounting option for a neon sign are quite varied, from mounting it directly to a wall, to a clear acrylic panel, inside a hung acrylic  box, to aged wooden boards or metal panels, basically most rigid surfaces are suitable. If you are unsure please feel to get in contact and we can discuss what you are trying to achieve. Check out our Neon Sign Page for more information.
If you would like to see a quick video over view of the neon making process check out our How is a Neon Sign Made video, or to view some completed projects check out our Custom Neon Signs page or our Neon Art page
LED Flex Neon Signs (LED Flex)
How is and LED Flex Neon Sign made?
LED Flex Neon Signs are made using LED Flex, this needs to be mounted to something to hold its shape and is usually attached to either clear or black acrylic. The acrylic is cut using a CNC router to cut a channel in the shape of the required design, the router then cuts the outline of the text or the shape of the design. Once the backing has been machine processed, the flex is then glued in place, with small cuts made into it so that it can be bent to the required shape or design. Pieces of the flex are connected by soldering small cables between them, these connections can be a bit fragile due to the size of the small cables used.
Where can it be used?
LED Flex Neon signs are mainly intended for indoor use. The reason for this is the way they are manufactured, cuts are made into the sealed LED Flex, these are necessary to bend the flex to follow the shapes required they are also cut in order to make the required soldered connections between pieces. These cuts need to be sealed back up, this is done manually with silicone and although it will provide weather resistance we wouldn't recommend their use for prolonged periods outside or in exposed locations. The acrylic backing can be on the fragile side.
LED Flex Neon Sign Mounting Options?
Due to the nature of the way the LED Flex Neon signs are made they need to be mounted directly to acrylic. This can then be either hung, or fixed in place using sign supports or directly screwed to the wall. Check out our LED Flex Neon Sign page for more information.
If you would like to see some completed projects manufactured from LED Flex visit our LED Flex Neon Signs page, or you can view our video showing the product close up here.
LED Neon (Acrylic Block Lettering)
How is LED Neon made?
This version of "Neon" is made from a solid block of 30mm thick acrylic, the rear of the lettering is routed out to make space for LED's to be put in to the back, the the outline is cut out for the lettering or design. Once the router has completed cutting out the lettering or design, it is cleaned up. The backs are then cut from a choice of materials depending on its final use. The final design choice will either require a flat face or rounded face. if a round face is required the acrylic face is then routed and cleaned up, either type then moves onto the next phase.
The next step is the mounting and soldering of LEDs inside the back of the letters or design, the backs are secured in place and then the sides are wrapped in a block out vinyl. Suitable fixing are then secured in place for the lettering or design to fitted into place.
Where can it be used
This type can be manufactured for either internal or external use, but we need to know beforehand as the process is slightly different depending on the use case. This type of design is robust and quite resistant to damage.
Mounting Options
There are a variety of option with this design including directly to a wall or mounted to a variety of rigid substrates, please get in contact to discuss your requirements. Cabling will need to be a consideration as each part will have a cable running to it. Check out our LED Neon Section for more information.
A variety of completed projects can be viewed on our LED Neon Signs Page.
How is a Neon Sign Made?
Real Glass Neon signs have become a very popular medium for both businesses and for people to have in their home, have you ever wondered, How is a Neon Sign is Made?
It takes years of practice to become a skilled neon glass bender. Learning the art begins with bombarding tubes, butt joining glass sections, attaching electrodes and practicing simple bends whilst getting used to the way the glass moves and reacts.
Check out our video below for a quick overview of the process.
To see some example of finished neon signs or get some more information visit our Neon signs section. If you are looking at some of the faux alternatives available, check our blog on the "different" types of Neon.
LED Flex Neon Signs Close Up
Welcome to our video showing a close up on the Quality of the LED Flex Neon Signs that we have produced.
We have spent a great deal of time making sure the company producing these for us in China understands the quality level we expect. As UK manufacturers we have a high standard that we produce and expect for all our signage. Enjoy our LED Flex Neon Signs Close Up Video.
If you are looking for alternative options you can check out our What are the Different Types of Neon Signs? Or you can view more information on our LED Flex Neon Signs Page.
Decorating with Neon: 5 top tips
Neon signs and neon art are becoming increasingly popular for both commercial and domestic use… 
After all, there is only one type of neon. Glass tubes that are hand bent to a design, offering a unique way to create both art pieces or neon signs, fully recyclable, long lasting and versatile.  
Neon can brighten up an office space or provide a soft glow for your home. Whether it's business or pleasure, take a look at five handy tips on how to work neon into your décor, whether it be your premises or your home. 
1. Neon and neutral
A great interior design tip, which is becoming very popular, especially with today's 'minimalist' interior approach, is pairing neon colours with neutral colours. If you want to add some excitement into your space, a neutral-coloured room is a perfect backdrop for some bold pops of colour, so let your neon take centre stage whilst the rest of your room is calm and subdued. 
2. Create fun rooms where you can use neon
Whether it be a craft room, a play room or your child's bedroom, they're great places to have a play around and experiment with colour, without having to be too serious. In the work place, breakout areas are a good place to start spreading your neon cheer. 
3. Know your area, know your neon
The key to having neon is knowing just how to effectively utilise the effect in the space you are placing it. A mass of colour and complexity in a small area can sometimes be confusing to the eye and cause an effect that is the opposite of what you intend. Likewise, neon that is too understated or spread out over a large space can disappear in the background and not draw the attention you need to your area. 
4. Turn down the lights
If you are looking to wind things down rather than liven them up, neon can still be a great addition to your space. With the ability to dim the light, neon can be used in a variety of forms as mood lighting or even as a night light for a child that then operates as a room decoration as they grow. 
5. Neon signs
Creating your own neon signage, not just adds a personal touch to your space, but also allows you to incorporate a creative flare into your home, office or commercial building. 
We hope you found this post helpful? Check out more of our neon articles here. And please drop us a line if you'd like to chat about any of the details we've covered or to find out more about how our variety of neon signs can help your business.